Learn the basics of shooting and editing video in two days
More and more companies, organisations and individuals need video content for their websites. However, production companies are often exorbitantly expensive and most people lack the skills to shoot, edit and upload video themselves.
Goal
In this practical, two-day training course, participants will learn the basics of video storytelling and how to shoot and edit film professionally. The emphasis is on learning through doing and you will leave the course having shot, scripted, edited and uploaded a video segment. You are free to bring your own equipment – even if it is just an iPhone – or we can provide cameras and editing software.
Programme
Day 1 – Filming
• Planning your shooting and preparing your gear
• Learning to shoot selectively
• Composing sequences – writing with images, anticipating action
• Framing and composing your shots
• How to shoot interviews
• Know your gear: technical tutorial on your equipment and how to use it best
• Creating the right studio lighting
• Shooting for the web – from mobile phone to web-streaming
Day 2 – Editing
• Focus on editing – We use Première Pro or Final Cut Pro but participants are welcome to bring their own editing software
• Editing for the web
• Video editing exercise
• Downloading, saving and storing video and uploading to web
• Analysis of video edits and feedback
Tip
If you're feeling ambitious we also offer this as a single day course. Additionally, if you need a corporate video for your website or a conference or interview filmed, contact us for a quote.
Trainers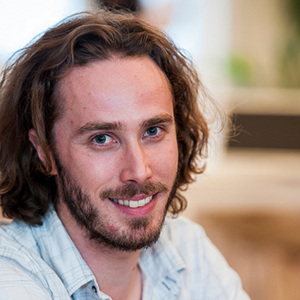 Hervé Verloes is founder of Newsant, a Brussels-based multimedia agency. He has been a producer, editor, journalist and cameraman for Thomson Reuters, the Associated Press, TVE, LCI and Belga press agency. He has also made documentaries and corporate films all over the world. Herve can teach you how to film and edit in his native French or in English, Dutch, Spanish or German!
Andri Søren Haflidason is the director of StokkStudio, providing a wide range of creative services in photography, video, music and design and consulting. As a trainer Andri has worked with diplomats and CEOs and a wide variety of other professionals. He is a professor at SAE Institute and the Ecole de Cinéma, Son et Animation and is co-founder of two non-profits active in the field of electronic music.
What our participants say
"I was very happy with the training. It covered everything I wanted. The group was small and the trainer was good – flexible, with a hands-on approach."Kameliya Encheva, European Cockpit Association (ECA)
"Excellent course. I started from a very low base and feel that I now have a very good grounding."Una Shortall, Deputy Secretary General, Council of European Energy Regulators
"The training was excellent. It was both informative and fun. After these two days I know techniques that I didn't even know existed."Eva Karlsdottir, Communication Officer, EEA and Norway Grants
[maxbutton id="2″]